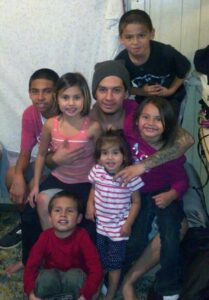 Michael Edward Lambert, 34, went home to be with the Lord Thursday, June 14, 2018.
He is survived by his mother, Carlotta Crowe; brothers, Adam Chris Lambert of Cherokee and Bobby Allen Crowe of Cherokee; one sister, Celine Lambert of Lawrence, Kansas; his children, Darius, Dacian, Samara, Mychaela, Mikah, and Milla Lambert, all of Cherokee; grandmother, Edith "Sweet Cheeks" Crowe, his loving nickname for her; special great aunt, Geraldine Thompson; special cousin, Vicki Thompson; special nephew, Asa "Blu" Lambert; aunts Margaret Teesateskie (Perry) and Susie Bigmeat; uncles, Jeff Crowe (Reggie); Robert Bigmeat (Marina), and John Ray Bigmeat; companion, Natasha Swayney; and several nieces, nephews, and cousins also survive.
Michael was preceded in death by his father, Adam Eugene Lambert; sister, Caretta Lambert; maternal grandfather, Allen Boyd Crowe; paternal grandmother, Golinda Lambert; paternal grandfather, David Eugene Lambert; maternal Aunt, Christine "Mote" Crowe; and paternal uncles, David "Crock" Lambert and Charles "Chuck" Lambert.
Funeral services will be held on Tuesday, June 19 at 11am at Acquoni Baptist Church.  Rev. Jimmy Park and Joe Wolfe will officiate.  Burial will follow at the Birdtown Cemetery.  Pallbearers will be Josh Lossiah, Ike Teesateskie, Taylor Teesateskie, Ed Thompson, Tom Saunooke, and Greg Bradley.
Long House Funeral Home is assisting the Lambert family.