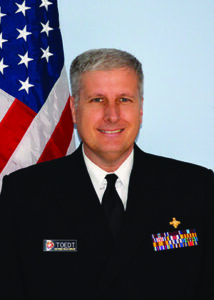 Capt. Michael Toedt, M.D., has been named as the new Indian Health Service chief medical officer as of Thursday, June 1.  In his position, he will oversee policy and staff of the Indian Health Service network.
Dr. Toedt is the former Cherokee Indian Hospital executive director of clinical services, a job he served in from September 2007 to September 2014.  In his 26 years of federal government service, Dr. Toedt has served in several other capacities including IHS Chief of Staff from January 2005 to September 2007.
"I know Dr. Michael Toedt as a strong advocate for quality health care services for Indian people, and I am so pleased to welcome him to his new position as permanent IHS chief medical officer," said Rear Adm. Chris Buchanan, IHS acting director.  "Dr. Toedt's lifelong commitment to service is an inspiring example.  His important work on clinical and community-based health programs will lead our IHS professionals in further advancing the IHS mission."
According to information from IHS, "The IHS chief medical officer is responsible for overall patient care policy and program development, implementation, monitoring and evaluation.  The chief medical officer guides IHS in evaluating, designing, and implementing health care delivery systems and coordinates with staff regarding health services, clinical guidelines, and planning activities.  The chief medical officer also serves as the primary liaison and advocate for IHS health professionals."
Dr. Toedt earned a bachelor's of science degree in applied physics from Georgia Tech University in 1991 and four years later, he earned a doctor of medicine degree from Uniformed Services University of the Health Sciences.  He is a member of the Health Information Management and Systems Society, the North Carolina Academy of Family Physicians, the American Academy of Family Physicians, the Commissioned Officers Association of the USPHS, and the Military Officers Association of America.
– One Feather staff report