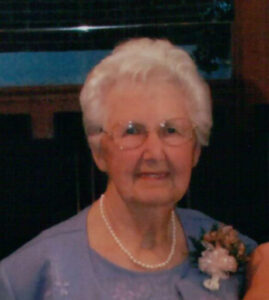 Rebecca Mary Fuller Barton, age 91, of Murphy, passed away Saturday, April 15, 2017. Mrs. Barton was born Nov. 12, 1925 in Bryson City to the late William Ace and Laura Cochran Fuller. She had worked in Fontana on the construction of the dam where she met and married the love of her life.
Mrs. Barton had attended Fontana Community Church. After moving to Murphy, she attended Peachtree Memorial Baptist Church where she was a member of the Minnie Ferguson Sunday School Class. Rebecca enjoyed cooking, sewing, and making visits to the nursing home.
She was preceded in death by brothers, George Fuller and John Fuller; sisters, Beulah Messer, Emma Barker and Lexie Denny, and husband, Vaughn Barton. Survivors include: daughter, Brenda (Richard) Parson; sons, Gerald S. (Kathy) Barton, Bobby (Janet) Barton; sister, Jean Moose; grandchildren, Christy (Jody) Parson LeCroy, Bart (Meredith) Parson, Brooke Barton (Jeff) Smith, Debbie (Charlie) Busch, Josh Barton, Jennifer Barton, Kyle King, T. J. King, Chase Busch; great-grandchildren, Elizabeth, Joseph, and Talmadge LeCroy, Audrey Parson; and sister by love, Verna Wiggins Kirkland.
Funeral services were held on Wednesday, April 19 at the Peachtree Memorial Baptist Church, with the Rev. Chris Furl, Rev. Chester Jones, and Gigi Turner officiating. Music provided by Elizabeth LeCroy. Interment followed in the church cemetery. Pallbearers: Eddie Foust, Don Riverbark, Greg Bradshaw, Jeff Fowler, Joe Phillips, Al Lovingood, Blain Barnett and Greg Moore.
Arrangements entrusted to the Cochran Funeral Home of Murphy. You may send condolences to the family and sign the guest register at www.cochranfuneralhomes.com.