For years, Cherokee community members have asked for something to be done about road conditions and lack of safe pathways for the Cherokee Central School System that has gone largely ignored.  The section of Big Cove Road that connects from Saunooke Village to the new school is narrow, has no sidewalks, and has a lack of lighting for anyone who wishes to travel that segment at night.  That is all about to change in the upcoming months thanks to public input and safety concerns shared by Principal Chief Patrick Lambert.
"There is a real lack of adequate walkway for our students and public who wish to travel on this road during the year," says Chief Lambert.  "We have to create an infrastructure that allows not only for safe travel, but also enables access to our resources by the public and visitors of this area."
The project, a complete renovation of a segment of Big Cove Road, was triggered by Chief Lambert from discussions held with community members and students who wished to see a better, safer access route into town and around some of the river features such as swimming and fishing locations.
The project cost is currently approximately $2 million, and it is funded through both Endowment and Investment Income which are funds the Tribe received through the original school loan for the project.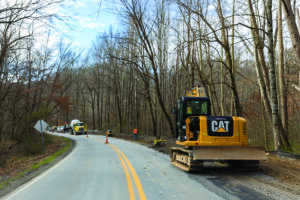 In all, the plan is to repave and stripe the road, add sidewalks, and provide lighting for safer evening use.  The work completed will tie the Big Cove Road segment to trail use at the "Job Corps Bridge," located near the school, to create a loop for exercise and other mixed-use activities.
"This is a project that will provide new opportunities for public use with little cost to the Tribe," says Chief Lambert.  "I will continue to look for these ways to improve our community, my office is always taking public input and putting it to work."
– EBCI Communications