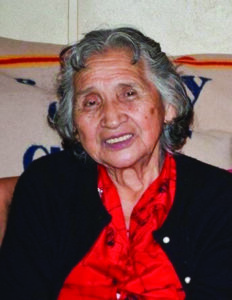 Katie Panther, 92, of the Big Cove Community, went home to be with the Lord, Friday, May 6, 2016 at her residence. She was the daughter of the late Jonah and Minda Wolfe. She was a great homemaker and loving grandmother that loved raising all of her grandchildren. She also enjoyed making white oak baskets and tending to her many pets.  Katie was preceded in death by her husband, Samuel Panther Sr.; one brother, Ned Wolfe; one sister, Ollie Crowe; one son, Julius F. Taylor; grandchildren, Kimberley Kay Panther, Natalie Denise Panther, Darrin Nicole Panther, Prestyn R-ly Panther, two great grandsons, and four stepchildren, Samuel "Snake" Panther, Wilma Pheasant, Charles Davis, and Frances Welch.
She is survived by three sisters, Lillian Crowe, Annie James, Dinah Wolfe; four daughters, Evelyn Wachacha (Wayne), Patricia Panther, Gloria Panther French, Deborah Panther (Johnny); four sons, Patrick Panther (Sharyn), Richard Panther (Kathie), Kenneth Panther (Diane), James Panther (Trina); six stepchildren, Ernest Panther, Floyd Panther, Alice Kekahbah, Alma Johns, Norleen Panther, and Hattie Panther; 29 grandchildren; 39 great grandchildren; 13 great great grandchildren; four special grandchildren, and several nieces and nephews.  
Funeral Services were held on Sunday, May 8 at the Big Cove Recreation Center. Revs. James (Bo) Parris, Charles Ray Ball, and Foreman Bradley officiated with burial in the Panther Family Cemetery.
Pallbearers were family members.