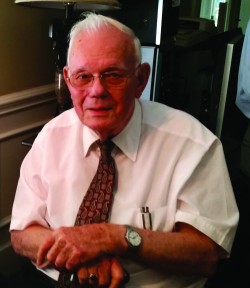 PICKENS, SC – Reverend William Ewell "Bill" Payne, 87, husband of the late Dorothy Dixon Payne, passed away from this life Wednesday, March 18, 2015 at Magnolias of Easley, SC.
Reverend Payne was born Nettleton, Mich., a son of the late Reverend Ewell and Vera Minga Payne. He was a graduate of Mars Hill College and attended Southeastern Theological Seminary. One of the highlights of his life was serving the Cherokee Indians from 1947-57 where he built many churches across the Reservation.
He was a member of Faith Lutheran Chapel, Pickens and also Keowee Lodge #79.  He was formerly a pastor of Crescent Hill Baptist in Pickens and also served as a photographer of The South Carolina Baptist Convention.
Survivors include three daughter, Kathy Barnett (Richard) of Easley, SC, Elizabeth Seay (Al) of Gastonia, and Susan Walters of Reevesville, SC; grandchildren, Kristin Thibodeaux (Corey), Justin Cassell (Bethany), Brandon McCombs, Brian McCombs, Christopher Seay, Jim Barnett, Shannon Seay, Carrie Anne Seay, Whitney Mellis (William) and Jessica Walters; great grandchildren, Jonathan Cardona, Lexi Cassell, Maci and Chance Mellis, Ashton Seay,Evie Seay, Braxton; a number of nieces and nephews; and a special friend with WPO Louise Young.
Reverend Payne was predeceased by his wife, parents, brother Tommy Payne and son-in-law Carl Walters.
A funeral service was held on Friday, March 20 at Dillard Funeral Home.
A message of condolence may be expressed to the family by visiting www.DillardFuneral.com
Memorials may be made to the Youth at Faith Lutheran Chapel, 729 West Main Street, Pickens, SC 29671.