REVIEW By KATHY S. de CANO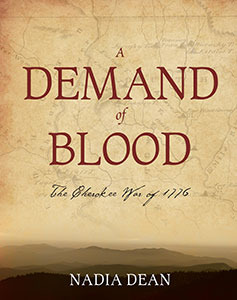 It would be hard to find a person born and raised in the United States who does not associate the year 1776 with the American Revolution and the Declaration of Independence. In Nadia Dean's well crafted text A Demand of Blood: The Cherokee War of 1776, however, the story is about how the Revolutionary War and the events surrounding it affected four main groups of people: the Cherokees, focusing on Dragging Canoe and his warriors in particular; the British; the rebelling colonists; and those still loyal to the British Crown.
One comes to see how each side viewed the turbulent time – the loyalists determined to continue as colonists under British rule as it was to their advantage, the British intent upon retaining their hold on a lucrative colony, the rebels fighting for freedom from the tyranny of the crown but also aware of the financial advantages of obtaining independence, and the Cherokees, passionately trying to hold on to their land and keep out the illegal immigrants, which in turn made them allies of the British.
The bloody narrative richly describes the destruction of both Cherokee and European settlers' towns, and in doing so, it paints a fairly detailed portrait of Cherokee life in the 18th century and the challenges faced by all parties on the landscape. The focus on Dragging Canoe is unique, drawn from unpublished firsthand sources of the time. A Demand of Blood is well documented, and it includes maps, illustrations, and even photographs of some of the primary documents used in Dean's research.
The author wrote the book while living in the North Carolina mountains, and she states in the book's "Author's Note" that her "…perspective as a writer developed through personal experiences with war, diplomacy and journalism."
Indeed, as the daughter of a Lebanese father who was an adviser to the World Bank and an American schoolteacher mother, Dean experienced all of these in a personal way. She had to flee wars in both Baghdad and Lebanon with her family and later worked as a journalist in the Middle East during crucial times of diplomacy. Certainly, the perspectives she brought to the situation of the Revolutionary War gave her insights into the intricacies of the multiple viewpoints inherent in any major conflict with a variety of players.
Published in Cherokee in 2012 by Valley River Press, A Demand of Blood satisfies the reader looking for both well-researched history and a compelling read.
Kathy is a book reviewer for the Cherokee One Feather.