Cherokee Choices
Program description
Cherokee Choices works to mobilize the community to confront environmental and biological factors that put Cherokee people at higher risk for diabetes.
The cornerstones of this program are listening to the community and providing social support to increase physical activity and promote well-being and healthy choices, which can reduce the risk for obesity and diabetes. This approach makes Cherokee Choices different from the top-down programs typically provided by social service agencies. Our efforts include addressing issues related to racism and mental health; creating a supportive environment for community participation; and developing policies for schools, work sites, and churches that promote positive health changes.
IN SCHOOLS
Mentors work with elementary school children and staff to develop lesson plans on self-esteem, cultural pride, conflict resolution, emotional well-being and health knowledge. There is also a weekly after-school program to enhance teamwork, cultural awareness, and physical health.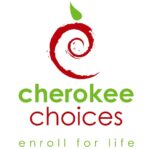 WORK & COMMUNITY
Nutritionists, dietitians, and fitness workers help tribal members participate in activities at their work sites that are designed to help them reduce stress, eat healthier foods and increase their physical activity levels.
Services provided:
Adult Cherokee Lifestyle Balance Classes (CLB)
Family Cherokee Lifestyle Balance Classes (CLB)
YOGA (During lunch) (Tuesdays & Thursdays) (Open to everyone)
Girls on the Run (3rd – 5th grade girls)
Jus Boyz running Club (3rd – 5th grade boys)
Walk-N-Talk (6th – 8th grade students)
Afterschool Program (4th & 5th grade students)
Remember the Removal Bike Ride (15 years and older)
Class mentoring program (4th OR 5th grade students)
Cherokee Community Wellness Team (Open to any healthcare professionals and community members interested in promoting wellness throughout the community)
Youth Garden Program (Call Tinker Jenks for more information

828-554-6788

)
Trail advocacy
Contact person
Sheena Kanott, MPH
Program Manager- Cherokee Choices
Office phone: (828)-554-6782
Email: sheekano@nc-cherokee.com
Location –where is service provided
Ginger Lynn Welch Complex
806 Acquoni Road
Suite # 200
Cherokee, NC 28719
P.O. Box 666
Cherokee, NC 28719
http://www.cherokee-hmd.com/cherokee-choices/index.html
Hours of services
Monday – Friday
7:45am – 4:30pm
(Note: Hours of operation can vary due to program activities, ect)
Eligibility requirements
All services are offered to EBCI tribal members. Non-enrolled members are always encouraged to participate as well.
– EBCI Health & Medical