Sean Ross explores different forms in "Aluminum Sioux Camps" art installation
By SCOTT MCKIE B.P.
ONE FEATHER STAFF
     EBCI artist Sean Ross is known for his realism and his contemporary style of art.  His latest art installation, entitled "Aluminum Sioux Camps", is a break from his realistic style and in his words, "nothing like what you've seen from me before." 
     His installation opened at the Chief Joyce Dugan Cultural Arts Center on the evening of Tuesday, May 15.  Consisting of three large canvases, the installation explores the beauty of form and togetherness.
     "This was in reference to the Sioux camps and other Plains camps in the way they would set up their camps in such a tight, constrained manner," said Ross.  "That had utilitarian purposes, but the reason they did it was for protection, communication, things of that nature." 
     Ross said as he began studying other cultures, he saw the same living patterns.  "I noticed that some peoples still had the tendency to build cul-de-sac type living arrangements when it was no longer necessary.  There was no need for protection.  They had different forms of communication.  It seemed rather an innate behavior than something that was learned."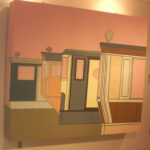 He said he saw the prevalence of the single-wide trailers and it inspired his work.  "It's in every culture, really every class in the United States.  I just think they're beautiful forms."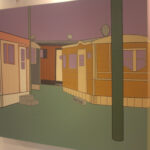 Ross said there are hidden gems of Native cultural influences in his installation such as color schemes, hues, and basket patterns. 
     "I want these forms to take on a sense of nobility, not a sense of desperation.  This is just all about a conceptual thought and process."
     Ross' installation is scheduled to be on display at the Center for a month.