By SCOTT MCKIE B.P.
ONE FEATHER STAFF
                The Head Start program at the Dora Reed Children's Center could lose its license.  The child care facility, which serves over 100 families in Cherokee, has been cited by the North Carolina Department of Child Development (NCDCD) for a Proposed Revocation of License.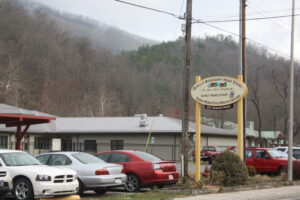 The Head Start program, which serves children ages 3-5, would be the only facet of the EBCI Tribal Child Care Program affected by the proposed license revocation.  The Early Head Start program and the Big Cove Center program would not be affected.   
                EBCI tribal leaders and Dora Reed officials went to Raleigh on Tuesday, March 15 for a hearing on the matter.  The Center is currently open and will remain so pending the outcome of that hearing which could take a week to ten days. 
                Principal Chief Michell Hicks related that the discussions with state officials lasted a couple of hours and focused on individual child issues that were investigated by Swain County DSS.  He said that, overall, the meeting went well. 
                "It's unfortunate that we have to deal with these types of issues, however, the safety of our children is our utmost priority," Chief Hicks said.  "It is obvious that more work is necessary within our Center and the outcome of the state's decision is crucial to our existence.  I do remain optimistic that our license will remain in place, however, there is a lot of work to be done to address the operation's shortfalls." 
                Albert Crowe is the Deputy Administrative Officer of the EBCI Community, Education and Recreation Services Division.  He was in attendance at Tuesday's meeting along with Chief Hicks, Attorney General Annette Tarnawsky and Dora Reed manager Frances Maney.
                Crowe said NCDCD officials have been in contact with the tribe since last March on various issues at Dora Reed.  "Basically, the investigations that were conducted brought up to a proposed administrative action that is to revoke our license with regard to use operating in accordance with the State of North Carolina." 
                "I think that the meeting went well," Crowe said.  "We provided background information and basically a plan of what we have implementing for corrective action measures in regard to this type of incident, and also we discussed proposed corrective action measures that we are researching currently to look and see if it is feasible for us to impose these changes – basically to make things better for the problem areas that have been identified." 
                Crowe related that an appeal has already been filed on this matter and is set to be heard the week of June 6 if needed.  If the outcome of Tuesday's meeting is favorable (i.e. something less than a license revocation), then the June appeal hearing will be cancelled. 
                According to information from the NCDCD, the Center was last licensed on Dec. 1, 2008 and received a Four Star Center License after scoring 12 out of 15 total points.  That was an improvement from their previous Three Star Center License. 
                The Dora Reed Center has a history of violations as reported to the NCDCD.  A sample of some of the violations reported in the past three years include: 
April 2010 – child found to be unattended in the hall with the classroom door closed
May 6, 2010 – same child again found to be unattended in the hall with the classroom door closed
May 11, 2010 – an assistant teacher was "rough handling" a child and told staff members in another room, "Here, (Child) is driving me crazy" and then left the room
Feb. 28, 2011 – three-year-old child left in bathroom for 23 minutes when group transitioned to different room for wrap-around program.  The report stated, "The child was found crying.  The staff member was unaware the child was missing from her group of children." 
               Mary Ann Thompson, of the Big Cove Community, commented, "I am sure we have all heard comments and questions from parents and staff for many weeks.  Questions were asked at our community meeting in Big Cove.  We wondered what last year's audit findings showed.  This didn't happen over night." 
                She further stated, "Does the end result come as a surprise?  When are we gonna get mad and not accept this mismanagement of yet another tribally-funded program?"