Elva Johnson Adkins, of Cherokee, NC and Deland, FL, entered into heaven at the age of 75 on January 14, 2011.  She passed away at Shands Teaching Hospital – University of Florida, Gainesville, FL.  She was preceded in death by her husband Charles and is survived by her son Jack and his wife Jody, of Deland, FL; grandsons, Andrew of Deland, FL and Tyler of Gainesville, FL and dear friends Sam and Donna Ball of Cherokee.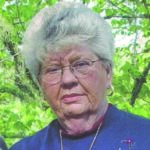 Mrs. Adkins was employed in the medical profession for over 30 years spending almost 20 years as the office manager for Melbourne Eye Associates in Melbourne, FL.  In 1985, she semi-retired and relocated to North Carolina where she operated several businesses.  She spent the past five years working as a hostess and ambassador for the Little Princess Restaurant in Cherokee.  She enjoyed forging new friendships, nurturing old relationships and caring for her family and friends.  Mrs. Adkins was a member of Plymouth Avenue Christian Church in Deland, FL. 
                Services will be held at 1pm on Saturday, Feb. 26, 2011 at the Big Cove Baptist Church, Big Cove Road, Cherokee with the Rev. Bo Parris officiating.