REVIEW By DR. HONEY DAWN KARIMA PETTIGREW, Ph.D.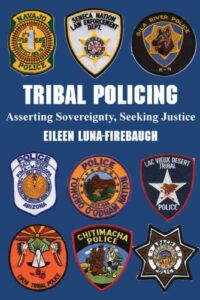 Turn on the television and you'll find numerous shows related to law enforcement. Whole networks broadcast court cases and some of the most popular films today fill theaters with images of police chases and criminal minds.  Throughout Indian Country, many books, films and broadcasts spotlight the work of Natives in law enforcement. 
  
A recent release by Eileen Luna-Firebaugh features an intriguing aspect of law enforcement: tribal police.  "At its most basic level," writes Choctaw/Cherokee author Eileen Luna-Firebaugh, "tribal sovereignty is simply the right of an Indian nation to govern itself, to make and enforce its own laws." 
 
In her new book, Tribal Policing, Luna-Firebaugh explores the importance of tribal police forces as an implementation of tribal sovereignty.  "A tribal police department,if nothing else, serves as a declaration of sovereignty, of the intent of a tribal government to protect and serve its own citizens, and to render justice in a manner understandable to and supported by the community," asserts the author.
 
Tribal Policing examines the history, laws and actions that have created tribal police departments throughout Indian country.  Luna-Firebaugh, who is an associate professor of American Indian law and policy at the University of Arizona, chronicles the development and the activities of Native police officers. 
 
"Tribal communities provide their citizens with police services that are uniquely their own," she surmises.  "They employ and train tribal police officers who reflect the goals and vision of the community, who are models for their citizens, and who seek to provide the highest quality of police services available," she declares.
 
This book discusses the training programs, the standards, the purposes and the involvement of Indian officers on reservation lands. Especially interesting highlights include an emphasis on the role of gender in tribal police departments, the relationship between tribal police departments and their communities, and the functions of tribal jails.
 
Painstakingly researched, this book presents tribal police forces with a balanced perspective. Further, the author supports her work with graphs, charts and statistics.  Personal experiences of the officers blend with clearly written, straightforward analysis to make this book interesting and accurate.
 
Tribal Policing offers insights into an integral part of reservation life.  Luna-Firebaugh successfully makes her case that tribal police are symbols of Native American self-determination and sovereignty.    "Tribal police departments created by the tribal community, coupled with community concerns and input, the cutting-edge approach of knowledgable experts, and support from federal and state agencies will create the new paradigm of tribal policing," the author predicts, "a paradigm that sees law enforcement not just as crime fighters but as an arm of restorative justice and the rehabilitation of wrongdoers."    
Tribal Policing demonstrates that "tribal policing, the heart of the tribal legal system, is the juncture of tribal sovereignty and justice."
Book info: Tribal Policing:Asserting Sovereignty, Seeking Justice by Eileen Luna-Firebaugh. Tucson,AZ:University of Arizona Press, 2007, 168pp,$29.95,ISBN#:0-8165-2434-3.