Drug Task Force Investigators arrested Christopher M. Gallegos, of Albuquerque, New Mexico on Thursday, June 3 and seized over 36 pounds of marijuana.   The arrest was made on McCoy Branch in Cherokee and was the result of a large scale, Interstate Drug Trafficking Investigation. 
 
Gallegos was transported to the Swain Co. Sheriff Department and the following day, was transported to Asheville for Federal Charges.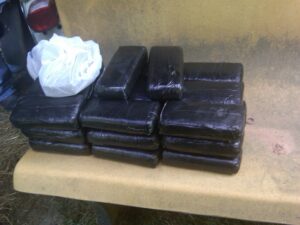 Gallegos has been charged with:
– Possession With Intent to Sell and Deliver Marijuana
– Additional Federal Charges are pending
 Numerous agencies were involved in this operation including: BIA Drug Enforcement, Swain Co. Sheriff Department, Cherokee Indian Police Department, ATF, National Park Service, and the DEA.
 
Cherokee Indian Police Department Chief Ben Reed stated, "I've said it before, after we make an arrest we will do everything possible to track down everyone involved no matter what jurisdiction, which in this case was New Mexico. With our current working relationships with other agencies, our capabilities are extensive. The EBCI and the surrounding communities are very fortunate to have this Task Force. "
Swain County Sheriff Curtis A. Cochran commented, "The Swain County Sheriff's Office has developed a good working relationship the Cherokee Indian Police Department and other agencies. This is just one way to keep our commitment and promise to you, to make our communities safe."
– Source: Cherokee Indian Police Dept. release